How to Design a Cozy Guest Bedroom
June 27th, 2022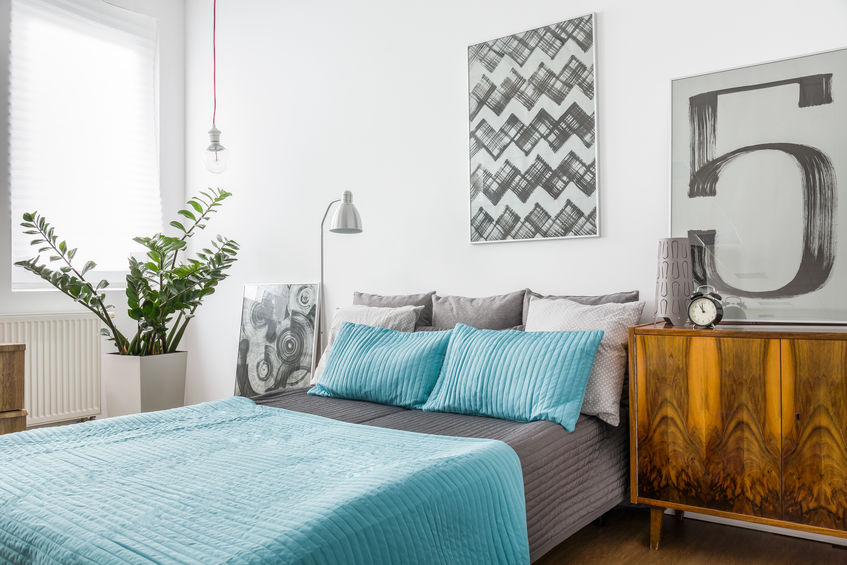 Whether your children have left the nest or you've just bought a bigger place that boasts some extra space, you may be wondering what to do with your new "guest bedroom." Creating a cozy and welcoming abode that any of your relatives or friends would enjoy may seem like a challenge, but there are simple changes you can make to your guest bedroom that can easily transform the space.
Here are a few ways to design your guest bedroom to create a cozy and welcoming feel!
Focus on the Bed
A bed or headboard can become the main focal point of your guest bedroom. Just because you don't sleep in there every night doesn't mean the bed should not be up to par design and comfort-wise. Opt for a statement headboard or bed — choose a fun fabric, a unique frame design, or a neutral fabric with a slight texture to give it an edge. After all, this is your opportunity to set the tone for the overall style and feel of the room! 
Create a Seating Area
Give guests a small seating area so they have somewhere to unwind that isn't just the bed. A simple reading nook will do, but if there's enough room, add a bench for your guest to rest their legs on and give them a spot to store their luggage.
Focus on Comfortability
Adding a bunch of stylish throw pillows instantly creates a cozy and welcoming space. While aesthetics are important, textiles can make all the difference. Splurge on cozy organic sheets, toss a knit blanket on an armchair and leave a stack of high-quality towels for your guest. Whether it's linens or bath towels, always give your guests more than they will need so they never feel like they're imposing.
Help your guests feel at home with a mix of sleeping pillows. Since preferences for sleeping pillows vary for each person, it's important to have a few options to meet a variety of sleeping styles.
Consider adding a rug for warmth underfoot if your room isn't carpeted. It's no fun to jump out of a warm, cozy bed onto a cold floor!
Provide Storage Options
Don't allow your guests to live out of their suitcases! Provide at least a dresser or if there isn't space, choose a nightstand with drawers. It will elevate the style of your room and make things a little easier for your guests.
When stocking your guest room's nightstands, add toiletries your guests may have forgotten. Items such as toothpaste, body wash and individual packets of Tylenol are the perfect way to make your guest feel at home.
Add Fresh Flowers
When your guests arrive, welcome them with a bouquet of fresh flowers. Pick fuss-free flowers that will last and won't droop before your guests "check out." Adding little touches, like a vase of flowers or mints on the pillow, can truly make the guest feel welcomed and special.
Update the Room for the Holidays
A fun way to keep your guest room fresh and interesting is to decorate it for the holidays or change of season. Invest in easy-to-swap items like pillows or wreaths that you simply pop in for the season and give your space a festive feel. 
At Conway Furniture, we have the bedroom essentials you need to style your guest room. From comfortable mattresses to dressers and nightstands, we can turn your spare room into a beautiful overnight retreat! 
Visit us in-store or give us a call at (519)291-3820 to find out what products we have available!