Simple Ways to Refresh Your Home for Summer
June 16th, 2022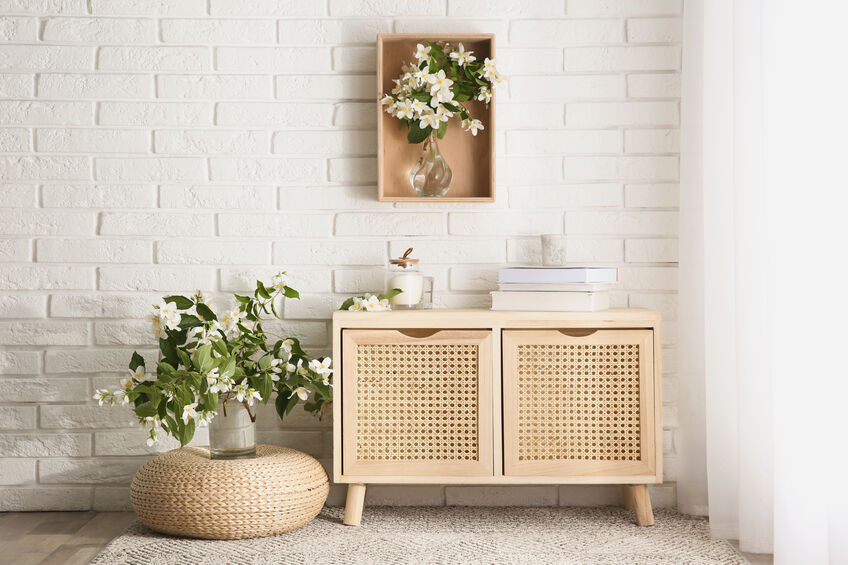 It's almost summer, which means it's time to freshen up your living space and embrace the light and airy feel of the season. During colder months, we tend to hunker down with heavy blankets and warm fires, and while this starts as a cozy introduction to winter, it can soon feel dark and oppressive. Now is the perfect time to change your décor and shed your home's winter coat leaving your space brighter and ready to welcome the new season.
Here are a few simple ways to refresh your home for summer!
Add Lighter Fabrics
Warmer weather calls for lighter fabrics. For a breezier look and feel, change your sofa cover and pillows, swap out heavier bedding with linen sheets, replace your thick carpets with thinner, brighter styles and bring in the sunshine by removing the heavy drapes and replacing them with sheer linen curtains.
Bring the Outdoors In
Bringing in some lush plants and flowers is an amazing way to freshen up your space. They add texture and interest to the space and make the room feel inviting. You might even consider a small indoor home garden where you gather a collection of beautiful plants and rest them near a bright window where they can get plenty of light.
For those not born with a green thumb, fake plants can be used throughout the home on a nice end table or accent table in the living room or bedroom. Some extremely believable fake plants are on the market, and they don't require intensive care or attention, making them very versatile. Adding any greenery, real or fake, will create a calming and peaceful environment, perfect for the summer! 
Give Your Coffee Table a Makeover
Many people decorate their coffee tables with seasonal books and décor. For the summer months, swap out your design books for travel or gardening ones. Replace your deep-coloured winter accent pieces with something lighter. Gold, brass, or neutrals are great colour options for some fun and unique table décor! 
Refresh Your Lighting
From floor and table lamps to wall sconces and chandeliers, updating the lighting in your home can completely change the vibe and feel of the space. Try switching out the lighting fixture over your dining room table or upgrade the table lamps in your living room, bedroom, or home office! Even switching out the type of lightbulb you use can make a big difference in the aesthetic of your home.
Change Up Your Wall Art
For people who like multiple room refreshes throughout the year, swapping out your wall art with seasonally appropriate images and colours might be best. Visit your local art gallery or take the time to visit art galleries during your summer travels to pick some pieces that remind you of your vacation. If you're unsure what wall art will aesthetically match your space, a beautiful ocean painting is timeless and can fit into any home décor.
You could even add original work to your walls if you have artistic abilities. Building an art collection is a fun and rewarding hobby. Periodically change what you have on display to keep things lively, especially with the change of season.
Rearrange Your Furniture
Think about how you and your family spend your time at home during the summer and reposition your furniture and accessories accordingly. Do you love watching your garden blooming? Consider moving your sofa so it faces the windows. Do you love reading by the windows? Place your lounge chairs and side table closer to the window or on your balcony and create a small lounging area.
As you're rearranging your furniture, pay attention to its condition. It might be time to invest in new pieces with a more versatile look and aesthetic for all seasons! 
At Conway Furniture, we have a wide range of furniture options for any room in your home. Our home accent and décor pieces are perfect for giving your space a refresh for summer, from our wall art to our lamps and lighting! 
Stop by in-store or browse our website to get some inspiration for your summer home makeover.