Tips and Tricks to Make a Small Living Room Look Bigger
June 19th, 2015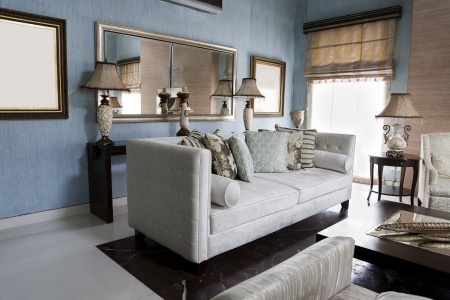 There are many ways to make a small living area appear bigger. Follow these tips and tricks to make to most of your space:

Color

Instead of leaving the trim and ceiling white, tie them in with the rest of the room to create a more open look. For the ceiling, choose a shade that is slightly lighter than the walls and for the trim, a shade slightly darker. Also, choosing neutral colors to paint and furnish a smaller room with will make it appear larger. Soft colors also reflect light better; and a bright, light room will also look larger than a dark one!

Mirrors

Use decorative mirrors to reflect light and make your living area look bigger. One commonly used idea is to place a large decorative mirror in a central area of your living room, across from windows. This creates a focal point for the room and reflects the outside view, adding light and the appearance of openness. Another idea is to use an architectural-style mirror to create the illusion of an extra window.

Furniture

To create an illusion of more space, choose open bottom chairs and couches. Also choose furniture that has a lightweight appearance, as it will appear to take up less space than its bulky counterparts. Glass tables are a great way to create an open look and feel.

Another great space saving trick is to use a storage ottoman in place of a coffee table. You can use the ottoman as a table for everyday us and transform it into extra seating when guests are over! Storage ottomans are also great for placing extra blankets and pillows inside of, as well as clutter like remotes and magazines while hosting a get-together or party.

TV

Choose a flat screen, wall mounted TV to save space. These TVs can be placed almost anywhere, and are especially useful in a small living room with a fireplace. By placing the TV above the fireplace, you get to keep the fireplace as your focal point and don't have to shift furniture when your favorite show is on!

For more space saving tips and tricks, visit Freshome and HGTV. Visit Freshome and HGTV. Interested in purchasing the perfect furniture and decorative pieces to accentuate your living space? Visit Conway Furniture online or at 5663 Line 86, Listowel, Ontario.