Tips for Designing Your Studio Apartment
February 11th, 2022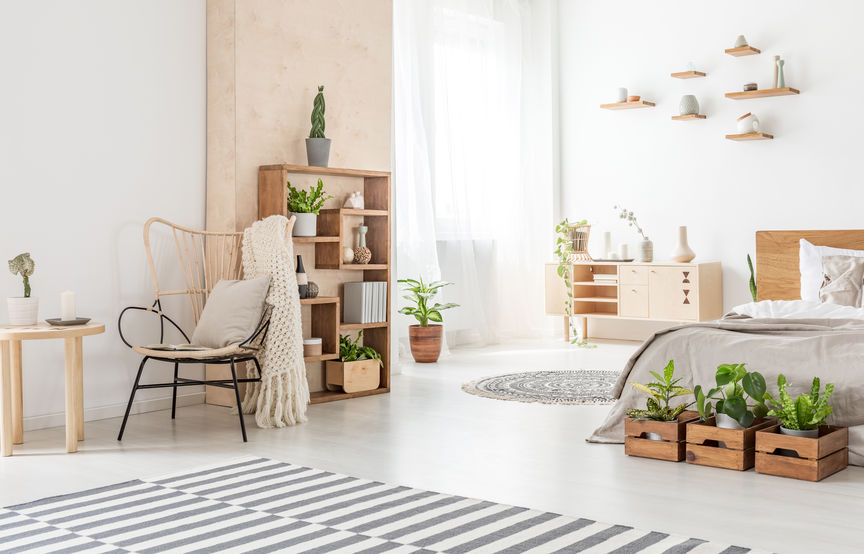 A studio apartment is an all-encompassing residence. The living room, kitchen area, dining area, and sleeping area are in a single large room, with no walls, doors, or other features to distinguish one space from another. The only separate room might be the bathroom. They are usually the most affordable option for apartment living, and the open floor plan design leaves room for a lot of creativity.
Here are a few tips for designing the perfect studio apartment that will suit your needs and fit into your aesthetic.
Invest in Multifunctioning Furniture
When working with a small living space, it is key to invest in high-quality furniture that can serve more than one purpose. A sofa bed or futon can be used as a bed at night and serve as extra seating during the day. You can make it your main sleeping location or strictly utilize it as your couch and a bed for guests on occasion. 
You may be able to fit both a bed and a sofa in your studio apartment if you pick items that are the right size for your floor plan. That might mean purchasing a twin bed and a loveseat instead of a full or queen-sized bed and a sectional sofa. Smaller furniture pieces can be just as comfortable and stylish as their larger counterparts.
Section Off Your Space
Separating your living space from your sleeping space can provide you with more privacy and make your apartment appear larger. You can use room dividers, hang curtains, or use large bookshelves to divide each section of space. Having a separate area in your apartment strictly dedicated to working is also a great way to define your small area and give yourself boundaries. Working in the same spot where you relax can decrease your productivity and make it difficult to focus.
Incorporate Storage Solutions
It is easy to forget about storage solutions when you move in, especially if this is your first time living in a studio space. Simple shelving can go a long way and can serve many purposes. Not only can a shelf help divide your apartment into different areas, but it can serve as much-needed vertical storage. You can also use it to display everything from your books to decorative pieces.
You'll also want to buy some storage containers for the kitchen and bathroom areas. This will help ensure that all those cooking utensils and grooming products have a place to reside that isn't on your countertops. That precious space is already limited, so you don't want to clutter it up.
Lastly, you must not forget about clothing storage. You will likely be provided with some closet space, but it will usually be small. You may want to invest in a portable closet, clothing rack or even a storage bench for the end of your bed. There are plenty of stylish storage options that can work in just about any space.
Decorate Your Space
Adding décor to your space is a great way to incorporate your personality and unique style. You can do an accent wall with photos or artwork to make the apartment feel like home. Finding a comfortable and stylish bedspread and some throw pillows can also add warmth to your space.
Proper lighting can help provide a cozy decorative touch to your home. Depending on the amount of space you have, you might want to purchase a floor lamp or a desk lamp to brighten up the studio. It is also recommended to leave whatever window space you have open and unobstructed. This will expand your space by letting in the natural and inviting light that will brighten up your apartment.
With natural light flowing in, decorating with mirrors can widen your space. Reflective surfaces create the illusion of a taller and wider apartment. Whether it's to add expansiveness to your bedroom area or open a cramped living room, mirrors will broaden your small studio apartment.
At Conway Furniture, we are here to assist you in designing your small space. We offer a wide selection of home accent pieces, living room and bedroom furniture, so you can be sure all your bases are covered. Our furniture professionals are always on hand in-store to provide you with any assistance you may need.
Head over to our website and start planning out your dream studio apartment today!