Easy Tips to Make Your Home Cozy for Fall
September 29th, 2021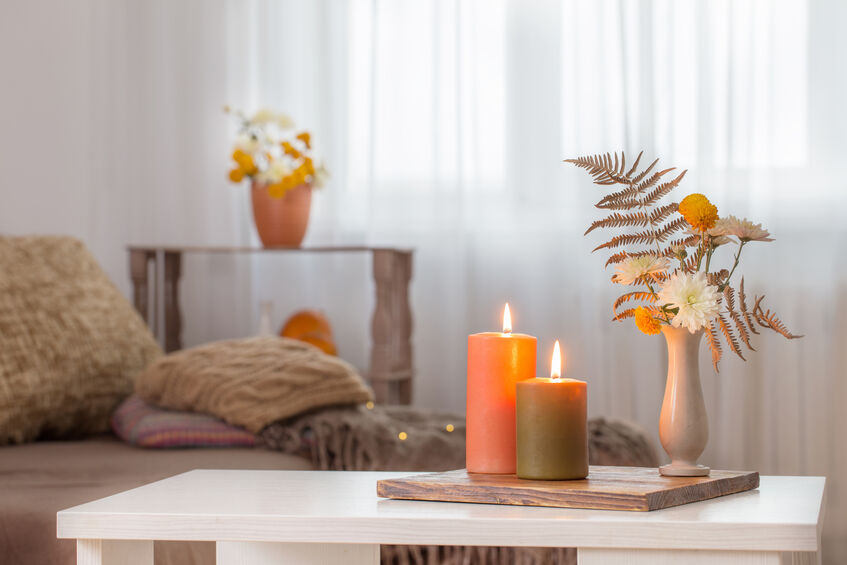 Summer is all about spending as much time as you can outside soaking up the sun and enjoying the long days. When fall comes around, especially here in the north, our mindsets shift indoors to reading books by the fireplace, watching Halloween movies under a blanket, and carving pumpkins at the kitchen table.
To get your space ready for the time you'll spend in it over the next few months, you'll want to leave the light and airy designs of summer behind in favor of warm and comfy fall interiors instead. Check out these interior design hacks you can use to make your home a cozy autumn haven!
Switch to seasonal colors.
Fall shades bring an instant look and feeling of warmth and comfort to your space. As the season sets in, replace your summer shades with ones that mirror the changing leaves like amber, maroon, gold, deep green, and chocolate. You can integrate these hues by swapping accessories like throw blankets and pillows, rugs, curtains, or even artwork.
Pile up the throw blankets and pillows.
Speaking of throw blankets and pillows, nothing says stay in and cozy up like some soft blankets and cushy pillows artfully layered around the house. Choose textured fabrics, such as faux fur, fleece, knit, or velvet, for an additional layer of coziness. Throw blankets and pillows are also an excellent opportunity to work some new fall colors or patterns into your décor too.
Hang curtains.
If you don't have any curtains, now is the time to change that. Or, if you have summery curtains currently, the fall season is a good time to switch to something darker and heavier. Hanging dark-colored, heavy fabric curtains is an easy way to soften up your space and give it a cozy feel. They will also help make your home a little warmer and conserve some energy as the temperatures drop. Choose a fall curtain color for an extra seasonal accent.
Light candles.
Candles on the coffee table, mantle, nightstand, etc. provide warmth, comforting scents, extra light, and the perfect ambiance for fall. You can infuse even more fall into the air with seasonal scents like apple cider and pumpkin spice. If you're nervous about an open flame, you can opt for electric/flameless and still get the benefit of extra lighting and autumnal ambiance.
Bring out fall décor.
Seasonal décor is an easy way to make your home feel as cozy as the fall season. Take the changing of the seasons as an opportunity to get creative. Hang an autumnal wreath, create displays with pumpkins and gourds, place a seasonal centerpiece on the dining table, switch to fall or even Halloween-themed table runners and hand towels, place bowls of fall chocolates and candy corn on the coffee table—the possibilities are endless!
Upgrade your furniture.
Since you're about to be spending most of your time indoors, the onset of fall is a great excuse to replace any old or damaged furniture with new quality pieces. Dark wood and leather are two beautiful options for fall but that are traditional enough to work in any season. Neutral browns and tan fabrics are another favorite for creating a cozy scene, and they can be complemented with bright colors for summer and spring and darker shades for fall and winter.
At Conway Furniture, we have everything you need to get your home ready for any season. Shop our store or online selection for major furnishings and supporting pieces, fun and functional accessories, or even new custom flooring options. Our furniture professionals will be on hand, in person, online, or by phone, to help you create the seasonal or timeless look you have in mind.
Head over to our website to start shopping today!