Easy Ways to Create an Industrial Look to Your Home
March 24th, 2022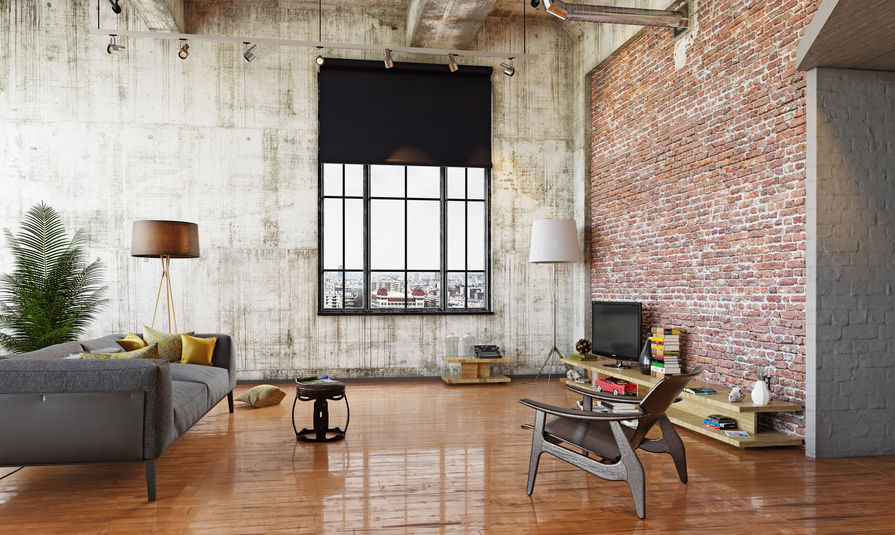 The industrial-inspired interior design look was born decades ago when property developers and architects began converting industrial buildings into modern homes. Since then, the theme has increased in popularity and remains a timeless style for your interiors and can effortlessly add a splash of character to any room.
Here are a few easy ways to achieve an industrial-inspired look to your home tastefully.
Be Practical
The industrial look is about practicality and versatility. An industrial interior requires features to be uncomplicated when it comes to furnishings. Clean lines, simple forms and stark contrasts are a must, but this simplistic approach does not mean you have to compromise on comfort. Living areas are spaces where you should be able to relax in a warm, welcoming environment. Use a few key textures while sticking to a cool, neutral colour palette. Try to avoid too many accessories, like an excess of cushions.
Practical Lighting
The kitchen is a room that requires a practical approach with design, especially when it comes to lighting. You can have the nicest looking kitchen in the world, but if you don't have the right lighting, cooking, socializing, or doing homework will be difficult. Task lighting is crucial to creating a wonderful kitchen, but that doesn't mean you need to sacrifice style as many options are available. Beautiful lamps and fun feature lighting like filament bulbs, shipper's lights, and pendant lights ensconced in wire and metal cages are unique and stylish ways to add industrial style to your space. Industrial lighting is often associated with sharp edges and bright fixtures, but that doesn't mean there's no room to experiment!
Incorporate Metal Fixtures  
It should go without saying, but metal fixtures are vital for this look. Depending on your overall theme, handcrafted metals can add to the feel of rough, exposed loft spaces and provide a sleek, refined look perfect for a range of spaces. Many people who are new to the industrial style are surprised by how versatile metal can be, with various colours and textures available. Industrial lights come in a wide range of shades, including warm coppers, subtle pewters, and bright brasses. Try experimenting with different tones to discover unique sides to your design.
Metal Furniture
Metal furniture is another great way to bring an industrial vibe into any interior. To achieve the industrial look with your furniture, look for pieces with exposed legs or arms that enhance its bare functionality. Dark toned materials, such as leathers and woods, pair well with industrial metal features. Bar stools with comfortable leather seats are a simple and efficient way to help you achieve an industrial look.
Experiment with Colour
Often, people believe that metal-heavy interiors are grey, cold, and tough. This couldn't be further from the truth. There is a wide variety of metallic shades and textures to experiment with that you can then pair with a vibrant colour palette throughout the rest of your interiors. Finding the perfect colour combination for your fixtures and other design choices is often one of the most exciting things about creating a dynamic space.
Copper is a classic industrial material that adds a splash of brightness to the dark, rugged industrial look. Alternatively, it is also a fantastic metal for bringing warmth and modernity to a space.
Pewter, a dark grey metal, is perfect for those searching for more of a subtle look while keeping that natural metallic texture, offering sophistication and versatility for any space.
If you're after a lighter industrial style, brass adds a lovely visual texture to a space while having a slightly softer quality. Brass lights are often popular for bathroom spaces, but they can also bring energy to lighter-toned kitchens and hallways.
Expose Imperfections
Many modern design styles promote precision, whether this is through refined colour schemes or clean edges. When incorporating the industrial style, you're encouraged to bend these design rules by exposing intentionally unfinished corners or uneven features. The important thing is to lean into these imperfections and make them a design feature. Incorporating untidy finishes gives your space a wonderful ruggedness and humanity, with a natural appeal.
At Conway Furniture, we stock various styles of lighting, furniture and accent pieces that will fit perfectly into your industrial-styled home. We embrace everyone's unique sense of home design and do our absolute best to assist customers with finding the perfect furnishings for their specific style. 
Browse our website or stop by in-store Mon-Sat from 9am-5pm to speak with a knowledgeable furniture expert!