Tips for Giving Your Home a Quick Refresh
April 11th, 2019
While the thermometer might still say winter, spring is just around the corner, and you know what that means: spring cleaning! A nice, deep cleaning is a gratifying way to re-energize your home for the new season. The start of spring is also a great time to freshen up your home furnishings and décor for a sunny, seasonal new look throughout your home. Here are a couple of bright ideas for you to try.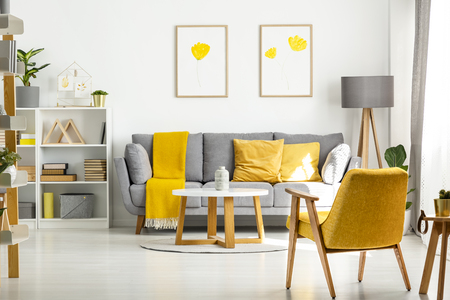 Add Color Accents
Liven up a space and make it feel new by incorporating splashes of color! Adding a vibrant, patterned area rug, for example, can make a family room feel more playful; a new piece of wall art in a bedroom or dining area can signal a change of season, reflect your style and add a little whimsy to your space.
Another way to breathe a little springtime air into a stuffy room might be to use some colorful furniture—like a bright accent chair or a richly-hued couch.
Include a Variety of Texture
Mixing and matching textures and fabrics makes a space feel energetic and lively. A new, luxurious leather ottoman next to an older sectional helps a seating area feel fresh, while still maintaining a subtle vintage vibe. A glass or metal accent table might offer a modern touch, while weathered textures add beachy and airy notes.
Don't forget to play with the walls! A strategically-placed mirror can feel like a window in a small or closed off room and reflect light in a way that gives off the illusion of open and luminous space.
Incorporate a Statement Piece
An accent piece with a fun design—like this Highmender table—can be a real conversation starter at a social gathering. Bold sculptures, vases, and artwork are great ways to perk up unused corners or bare walls that might be plaguing a room.
Another advantage to investing in great artwork is that you don't have to keep it in the same place. Rotate a few of your favorite pieces throughout the house for a brand new (and free) look whenever you like!
Let There Be Light
We don't know about you, but the long and dark winter season always leaves us yearning for some sun. While the days may finally be getting longer, it never hurts to incorporate some bright and original lighting right into your home!
Brightening up a room with a unique floor or table lamp will boost your mood on those rainy days and make it more inviting for guests. As an added bonus, artificial accent lighting is quick and hassle free—all you need is an outlet!
If you're looking for even more ways to invigorate your home for the new season, head on over to our website to browse different products and find some inspiration for a fresh spring style!