The Benefits of Choosing an Electric Fireplace
November 3rd, 2020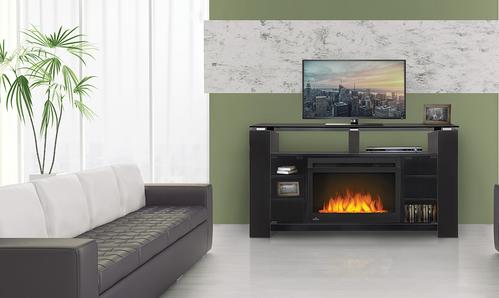 As the last leaves on the trees start to fall and winter rounds the corner, now is the time people start looking for ways to make their home cozier. Everybody needs that one room in the house, whether it's a bedroom, living room, den, etc., where they can snuggle up with a good book or TV show while the winter winds howl outside. The perfect feature to tie that intimate space together? A fireplace!
If you don't already have a wood-burning fireplace in your home though, you're not completely out of luck. An electric fireplace is a just as beautiful, and some might argue smarter, alternative. Let's take a look at the advantages an electric fireplace can offer you and your space!
Cost-Efficiency
One of the biggest draws of an electric fireplace over a wood-burning or gas one is the cost. If you want to install a wood-burning or gas fireplace in a house that doesn't already have one, you're talking thousands of dollars in construction, masonry, connecting gas lines, etc. If you need to have a chimney installed with it, that will run you even more. Then you also have to consider ongoing costs, such as wood, cleaning, and other maintenance. A good electric fireplace, on the other hand, you can get for as little as $1,000-2,000 and requires virtually no expenses after initial purchase.
Safety
As you might've guessed, there are greater risks to burning wood in your home than there are when using an electric heating source. Electric fireplaces don't have a real flame, which mean you won't have to worry about smoke inhalation, gas fumes, carbon monoxide, or potential fire hazards. Many electric fireplace models even come with an automatic or timed shutoff feature, if you're wary about electrical hazards. Especially if you have kids and/or pets, an electric fireplace is definitely the safer option.
Low-Maintenance
Real fireplaces require a lot of upkeep. When wood burns, it leaves residue like ash and soot in both your fireplace and your chimney, as the smoke travels upward. If you don't clean and remove this residue regularly, it will cause damage to the structures and become a fire hazard. Not to mention, you'll either have to go out to buy or cut your own firewood, as well as store it, to keep your fireplace fueled. With an electric fireplace, all you need to do is flip a switch and, occasionally, wipe down the front glass.
Energy-Efficient Heating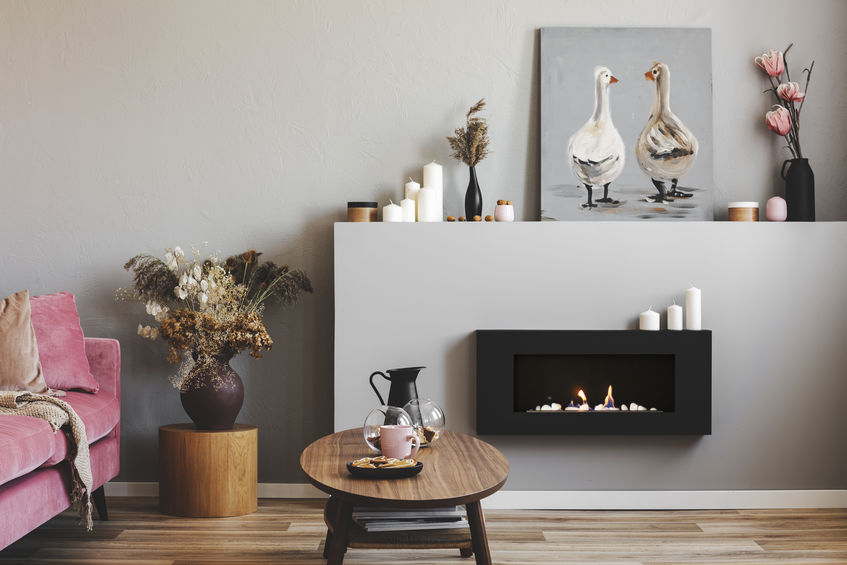 An electric fireplace uses less electricity than an electric central heating system. This makes it a great source of supplemental heating that will keep your home at a comfortable temperature and save you some money on energy bills in the winter. Plus, that energy-efficiency makes electric fireplaces eco-friendly too. Unlike with a wood or gas-burning fireplace, you're not using any natural resources to power it or releasing any pollutants into the air.
Easy Installation
In addition to costing less money to install, an electric fireplace installation will also cost you less time and effort. Electric fireplaces are fairly easy to set up—you can usually have them up and running within an hour or so. If you opt for a standalone model, all you have to do is choose a spot and plug it in. This easy installation also makes an electric fireplace easy to move, if you want to put it in a different room or move it with you to a new house. It also allows you to use a fireplace in smaller spaces where you couldn't practically install a wood-burning one, such as an apartment, condo, or outdoor structure on your property.
Aesthetically Enhancing
A fireplace is a beautiful addition to any space, and electric models are no exception. An electric fireplace will make any room look cozier and more sophisticated. They're available in a wide variety of different designs to suit any room style or personal taste. You can opt for a sleek modern model, one that looks like a more traditional fireplace with a mantel set in stone, a wall-mounted unit—the possibilities are endless.
You can find everything you need to cozy up your space for the winter this year online or in store at Conway Furniture! We have a gorgeous selection of electric fireplaces, including entertainment center units, standalone designs, and wall-mounted models to suit rooms of every size and style. We also offer extensive furniture collections and home accents, so you can make your home a dream space for any season.
Browse our full inventory online today or call to set up an appointment to stop in our Listowel showroom!