Designing a Kid's Bedroom
July 24th, 2015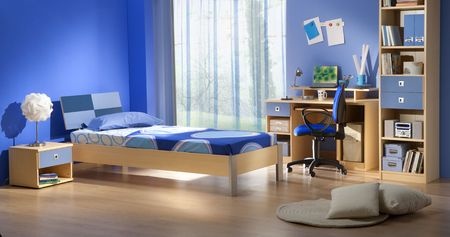 Whether you are making the transition from crib to bed or moving the kids around to make space for a new sibling, there is plenty to consider when purchasing furniture and decorating your children's bedrooms. Whatever the reason for redesign, get your kids excited for the change with our kid-friendly design advice!

When choosing a bed, there is a lot to consider. Bunk beds, a twin bed or a full are all good options. The most important aspect of choosing a bed isn't what style you choose, but instead how much storage is available. We recommend purchasing a bed with built-in cubbies or one with a frame high enough to place rolling storage bins beneath. This under-bed storage is the perfect spot for seasonal shoes and clothing, as well as toys and art supplies.

A bookshelf is another key addition to any child's room. Not only will this special spot for their books get them excited about reading, but it is also another storage spot! Display trophies and art on the higher shelves, books in the middle and art supplies, toys and board games on the bottom shelves. This places the frequently used items in easy reach for your child, making it easy for them to get things out and clean up after themselves.

Also consider a desk when purchasing furniture for your school-age child's bedroom. If you have the space, placing a desk in your child's bedroom will give them a quiet place to do their homework and keep their school supplies.

Furniture style should be simple – a wooden bedroom set is something your child won't grow out of when they reach their teens! For all of your home furnishing needs, check out our online catalog, then visit Conway Furniture at 5663 Line 86, East of Listowel.