Top Tips for Designing a Child's Bedroom
May 19th, 2023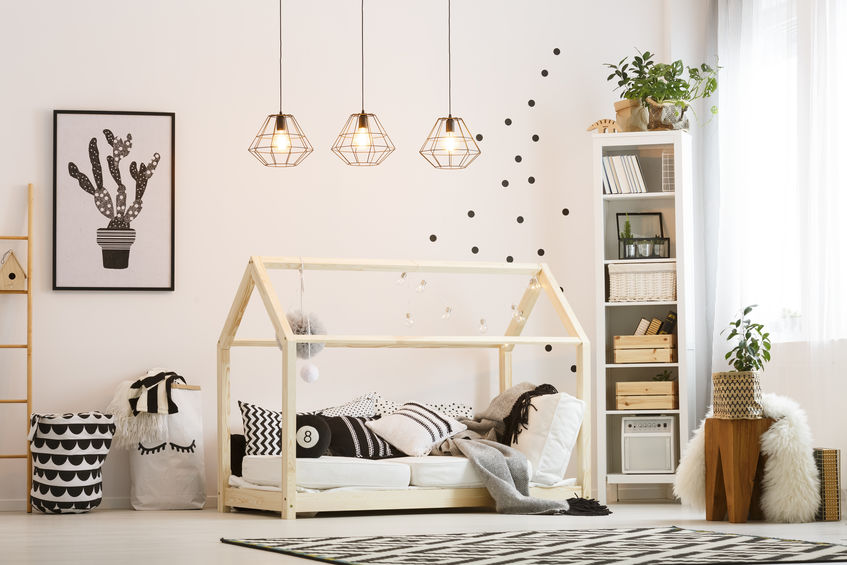 Designing your child's bedroom can be a fun, creative experience that takes you back to your own childhood. What were some things you wish you had in your childhood bedroom? What would have made your life easier?
While aesthetics are important in creating a child's bedroom, it's also about designing a nurturing space that encourages imagination, creativity, learning, and rest. This might sound like a challenge, but with some key considerations, you can transform your child's bedroom into a safe haven they will love!
Here are a few tips to follow when beginning the journey of designing your child's bedroom.
Safety First
Incorporating safety into your design should be your number one priority. Ensure furniture is sturdy and non-toxic and that all electrical outlets are childproof. If you're considering bunk beds, they should have solid safety rails. Remember to secure heavy furniture to the wall to prevent tip-overs. Also, be sure that any blinds or curtains are free of choking hazards, such as cords.
Use Kid-Friendly Furniture
Opt for kid-sized furniture that is easily accessible and encourages independence, like a low bed that they can climb into, a small table and chair where they can draw or do homework and low storage solutions that let them reach their toys or books. It is also a good idea to get a bed that can adapt to your child's needs as they grow. Consider a convertible crib or a sofa bed with a pull-out option for sleepovers.
Create a Multifunctional Space
When designing a child's room, it's important to make it multifunctional. The space should allow for sleeping, playing, studying, and storage. Consider adding a comfortable reading corner, a desk for doing homework, ample storage for toys and clothes, and plenty of open floor space for playtime.
Choose a Theme
Whether it's superheroes, princesses, animals, or spaceships, a theme can make a room come alive for a child. You can subtly integrate the theme by using colours, wallpapers, bed linens, wall art, and accessories. Just remember, children's tastes can change quickly, so try to incorporate the theme in ways that can be easily modified in the future!
Opt for Durable and Easy-to-Clean Materials
When it comes to children, their surroundings can take a beating. To avoid damage, it's best to use durable and easy-to-clean materials for furniture and finishes. Select washable paint, spill-resistant rugs, and sturdy furniture that can withstand rough play.
Incorporate Plenty of Storage
As a parent, you know that children have a lot of belongings like toys, books, clothes, craft supplies, etc. To maximize space, consider investing in furniture that also functions as storage, such as beds with built-in drawers or benches with storage compartments. Additionally, shelves, baskets, and wall hooks are great options for extra storage without taking up too much room.
Involve Your Child in the Design Process
When you involve your child in the design process of their new room, it will make them feel appreciated and enthusiastic. You can start with something as basic as allowing them to choose the colour of the walls or the theme for the room. Ask them their opinions and what they might find useful to have in their space since they are the ones who will be spending the most time in this room.
By incorporating these tips, you can create a functional, safe, and playful space that grows with your child and fosters their development. As you begin this exciting project, remember there are resources available to help you find just the right pieces to make your child's bedroom unique!
At Conway Furniture, we offer a wide selection of home furnishing solutions, including bedroom furniture, mattresses, and storage solutions, backed by great service from a friendly and experienced team! Explore our diverse selection and find the perfect pieces to create a magical room for your child!
Contact us at (519)291-3820 for expert room design advice, and browse our inventory online along with our clearance section for some incredible deals you will want to take advantage of.