The Art of Creating a Home Office You'll Actually Want to Work In
November 6th, 2019
People sometimes make the mistake of thinking you can get a cheap desk and chair, throw it up against the wall in the extra room, and have everything you need to get to work in your home office. The truth is, however, that creating a productive space is much more intricate and strategic.
If your home office feels like a cold cubicle with a dull and unfriendly atmosphere, you'll never want to be in it, and you won't get any real work done! Your at-home workspace should be a positive, welcoming place that motivates you to get down to business. So, let's get to work making your home office a more inviting space!
Choose the right furniture.
The goal for your office furniture is to be both functional and aesthetic. Your first investment should be a quality chair and a desk to go with it. Not only is this where you'll be spending the majority of your time here, it's also likely to be the focal point of the room.
Use pieces in your office that complement the rest of your home.
Think about what you need to enhance your workflow and stay organized—file cabinets, bookshelves, lamps, etc. When you head to the store, look for furniture that flows with the interior design in surrounding rooms and the rest of your house. This way, your office will feel less like an isolated and disconnected space, and more like a part of your home.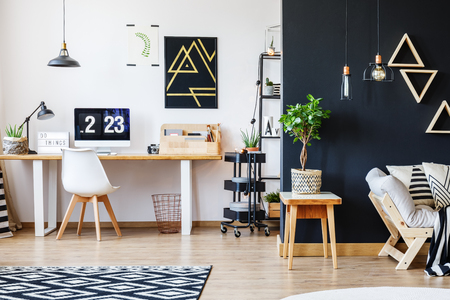 Make it homey with accessories.
Décor is a very powerful tool for creating a specific vibe in a space and bringing it together, and your home office is no exception. Add a few cozy touches to make the room feel warm.
Put down a fluffy rug or leave a colorful throw blanket on the back of your chair! Plants or faux greenery are also a good option, as they make a space feel welcoming and boost your mood. Just don't add so many cushy accessories that they distract you from your work.
Oh, and don't forget to emphasize any natural light that comes into the room so you can soak up the Vitamin D and have the energy to keep working.
Make it inspirational.
Finish off your home office with wall art that inspires you or with a display of motivational quotes to keep you working! Personalize your desk with mementos, fun knick knacks, and photos that make you happy and remind you why you work so hard in the first place.
Have a space for breaks.
A lot of experts agree that the best way to maintain and increase productivity during a work session is with periodic breaks.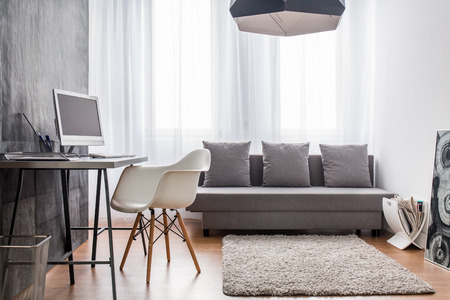 Set up a little corner or designated area in your home office to take a breather and reenergize. Put a mini-fridge, cabinet, or shelf in this space where you can keep snacks and drinks that will refuel your mind and body. Throw a couple magazines or a speaker on an end table too, so you can give your brain the break it needs to keep going.
Create a section that's warm and comfy.
When you design your break space, fill it with furniture and items that will make you look forward to using your office just so you can eventually take a break! If you have the room, get a comfortable chair or loveseat, and an ottoman to throw your feet up. Round it out with a furry blanket and luscious throw pillow to help you out during those power naps.
Conway Furniture knows how fundamental your home office is to your productivity and professional development. That's why we carry all the furniture and accessories you need to make the most out of your workspace. Stop by our showroom or give us a call to learn more about how we can help make your home office work for you!