Tips to Make the Most of Your Home Office
June 20th, 2022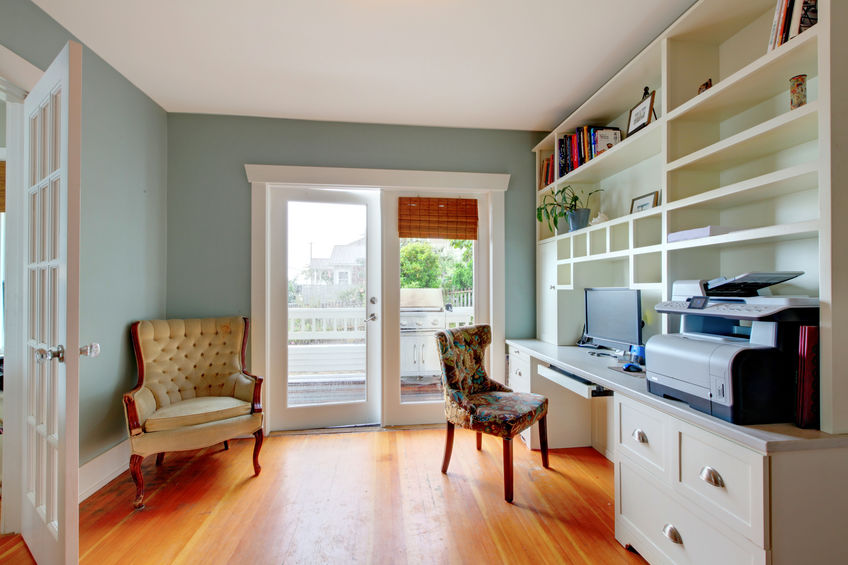 With the flexibility and sometimes extended demands of the modern job, working from home can be a necessary part of working. If you have the space, making an extra room or an underused corner of your house into your home office is a great way to keep yourself organized for getting your work done.
Here are a few tips for creating a functional space you want to work in! 
Let There Be Light
Whether your location is near a sunny window or in a darker corner of an interior room, ensuring you have sufficient lighting is an important part of getting your work done. You don't want to be straining to read your notes or papers, so make sure you have ample opportunities to brighten your workspace. Standing lamps can provide great illumination and easily find an out-of-the-way home behind a storage cabinet or shelf.
Pick the Right Colours
Colours can have a great psychological impact on people. Choosing the right colour can mean the difference between high productivity and feeling like you want to sleep every time you sit at your desk. Different colours elicit different physical and emotional responses from people, so you need to choose wisely.
Light and airy colours are generally preferred for a home office. You'll also want to use more "natural" colours, such as blues, greens, off-whites, and other earthy tones.
Find a Quiet Place
Your home office should allow you to retreat from the distractions and comforts of home so that you're not lured away by the latest show or worried about other family members constantly popping in and interrupting you. Try to plan your office to be in a quiet area of your home, away from screens and sounds that can divert your attention from work. By removing yourself from outside influences, you'll be able to keep productive, and you can work more efficiently.
Hide Unsightly Cords
There's not much you can do to beautify the computer, printer, and phone, but you can hide unsightly cords. Start by ensuring your equipment is close to outlets and easy to access if you need to unplug. Encase cords on the desk in a fabric cord cover, and feed them into a desk grommet, a plastic or metal cap that helps guide cords through a hole in the desk and hides them underneath. Tame the cord jungle on the floor with cord winders, tubing, or a wire organizer attached to the desk and lift the cords off the floor.
Stay Organized
Part of functional office space is keeping everything neat and organized so that you can find important notes and files when you need them. Depending on the volume and type of work you do, your storage needs could vary from a simple bookcase to a larger entertainment unit with multiple drawers. Make sure you not only plan out a place to put your paperwork but also have enough room in your home office to keep everything. Just as you want to find a place where you can be free of outside distractions at home, you don't want your office spilling back into the rest of the house.
You may also want to deck out your walls with some free-floating shelving. This can add dimension and style to your workspace while also giving you extra storage for awards, pictures, or office supplies! Getting creative with your storage and organizational systems is important if you are working with a smaller space.  
By creating the perfect setup and balance for your home office, you'll create a functional and effective place to get your work done quickly and efficiently, allowing you to get back to enjoying the relaxing spaces in the rest of your home.
At Conway Furniture, we have the furniture and accessories you need to create a productive and beautiful office space to get your work done. From comfortable chairs to accent tables and shelving options, you won't have to look anywhere else to create your dream office space! 
Contact us today at (519)291-3820 or stop by in-store to browse our inventory.