This is Why a Sofa Bed is a Must-Have Item for Every Home
June 9th, 2021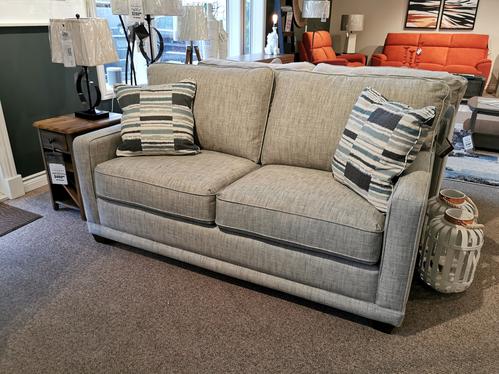 When it comes to furnishing your home, furniture can be broken down into two different categories: essential pieces you need and non-essential pieces you'd like but can live without. Many people would probably put a sofa bed into the latter category, but we argue it should be on the list of essential pieces you need to complete your home. When you take a moment to look at the advantages of having a sofa bed, we think you'll be convinced too.
Check out all the great benefits this seemingly-insignificant furniture piece has to bring to the table!
Space-Saving Versatility
A sofa bed's dual function as, well, a sofa and a bed, makes it an extremely useful piece of furniture for optimizing the use of your space. They work especially well in small apartments with limited space, but are also great for spare rooms, dens, and other auxiliary spaces in a bigger home. Especially if you want to have a space for guests to stay but don't want to sacrifice an entire room, a sofa bed is the perfect solution.
Comfortable Sleeping Alternative
When you're in need of a temporary or impromptu extra sleeping space, a sofa bed will come to your rescue. Nobody will have to worry about hurting their back sleeping on a cramped couch, air mattress, or hard floor. There are many quality sofa beds on the market that are designed to provide comfort and sturdy support not just for seating, but for sleeping specifically.
Extra Storage Space
Many modern sofa beds come equipped with hidden storage drawers, increasing their space-saving abilities even more. Use this hidden storage to keep the room tidy and remove clutter you're not readily using. You can also use it to store extra linens and pillows, so it's ready to be transformed into a bed at a moment's notice! This bonus storage space will help you stay better organized and save space elsewhere.
Stylish & Versatile Design
A sofa bed is an attractive piece of furniture that can be used to round out any room without sacrificing style. The hidden bed and storage features are discreet, so it'll just look like a gorgeous couch or loveseat. Sofa beds are available in many different colors, materials, shapes, and different designs to complement any interior design scheme in any room or home.
Easy to Move
Setting up and moving around a sofa bed is pretty easy, especially when you compare it to doing the same for a regular bed or couch. This flexibility makes it easy to adapt a sofa bed to your changing needs. Just bought a giant sectional for the living room? Put your sofa bed upstairs in the office! Need a downstairs sleeping space for an elderly visiting relative, bring it downstairs with ease and situate it seamlessly in the den or living room.
Save Money on Furniture
Since a sofa bed is both a couch and a bed, you're pretty much getting two pieces of furniture for the price of one! Use it for family lounging or extra seating when you're entertaining, then transform it into a comfortable sleeping spot when guests stay the night or the kids have a slumber party. With a sofa bed, there's no need to spend money on furnishing an entire guest room AND an extra seating area somewhere else in the home, when you have a built-in two-for-one deal at your fingertips.
Our goal at Conway Furniture is to help you make the most of your space in both aesthetic and function. We carry a wide selection of premier-quality and cost-friendly sofa beds, so you'll have no problem finding one that fits seamlessly into any size or style space.
Check out our sofa beds and other furniture collections online to order for delivery, or stop by the shop and see what's in stock today!