The 3 Things You Need to Host the Perfect Movie Night
May 1st, 2019
Thinking about having your friends over for drinks and a movie? Or are you looking for a fun activity for the whole family to enjoy?
There are a ton of great reasons to throw a movie night—not that you need an excuse to sit down and watch a good flick! We've narrowed it down to three essential elements for hosting the ideal night of cinema. If you don't know what they are don't worry, we're about to fill you in.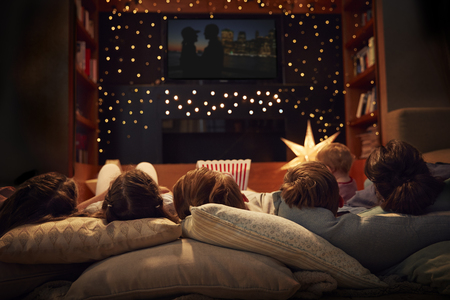 1.) The Right Movie
This one is a no-brainer. The key to the perfect movie night is, first and foremost, the perfect movie! When choosing your feature, the most important thing to consider is your audience. Cater to the age and taste of your guests and do your best to ensure everyone is happy with your choice.
Having a five-year old's birthday party? You probably don't want a horror film. Stick to Disney or something similar. Are your college buddies coming over while your wife is out of town? You'll probably want a good comedy to keep the laughs—and the beer—flowing. Better yet, have a few options ready to offer your guests to guarantee they have a good time!
2.) Snacks—Go for Quality and Quantity
Start the night off on a tasty note with some delicious appetizers—like pizza rolls or cheeseburger sliders—for you and your guests to enjoy before the movie gets started! This will make it easier to prevent messier fare from staining your couch or carpet.
During the movie you'll want to provide plenty of snacks to choose from and enough to go around. Have a little bit of sweet, salty, and sour ready to go for people to mix and match or grab their favorite! Candy, chips, and of course popcorn are a must. Try looking up some fun themed treats to go with the movie; like gummy eyeballs for a horror movie night or Mickey Mouse shaped cookies for a Disney marathon.
If you're hosting an older crowd, bring out the alcohol and come up with a drinking game! Or make it BYOB and have mixers available for everyone's favorite cocktail.
3.) Set Up an Awesome Home Theater
The final factor in throwing a movie night for the history books is having the best place to watch. Make sure you have plenty of comfy seating available for your friends to lounge on—and some pillows and blankets for the floor too! Invest in a luxurious leather recliner or a soft and snuggly loveseat. Don't forget a coffee table for easy snack access!
Angle your T.V. so everyone can see what's going on and display it in direct sight of your seating setup. If you have the space you could even go for a projector against a big, blank wall to really embody the feel of a movie theater! You're also going to want the perfect entertainment center to keep all of your movies and streaming technology organized—try heating things up and impressing your moviegoers with this unique entertainment center/fireplace combo.
Hosting the perfect movie night calls for way more thought than an old DVD player and a bowl of popcorn—cinema is an art! Make your home the ideal destination for feature film watching by letting us help you furnish your home theater with ease, and enough money left over for snacks!