3 Tips to Help You Make the Most of Your Small Media Room
February 13th, 2020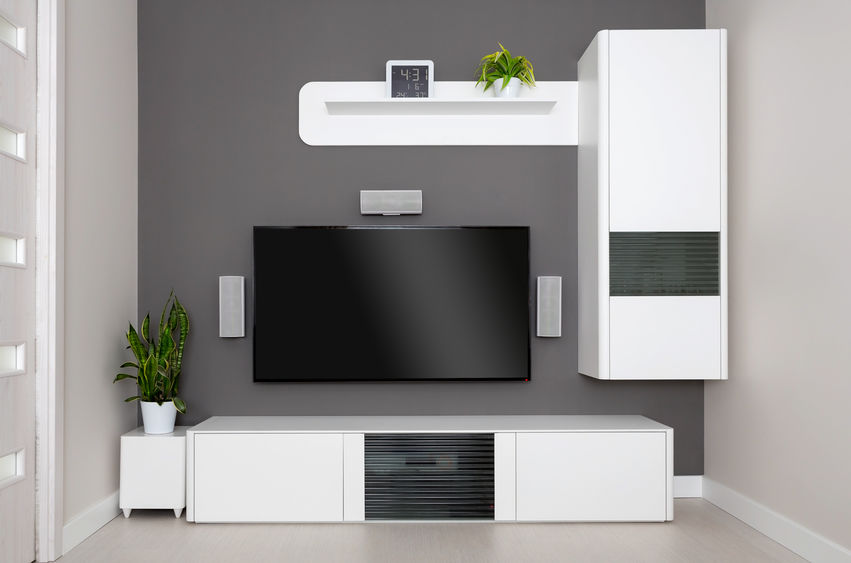 A media room or home theater is a great spot to have in your home for a separate place to relax or for families with kids whose movie night messes are difficult to contain.
You might assume you'll need a finished basement or large extra bedroom to create a designated entertainment room, but that's not true! If you devise a strategic layout and choose the right pieces to furnish it, a small room can easily be transformed into an efficient home theater.
Here are a few tips to help you maximize the potential of your small media room:
1) Mount your TV.
Don't waste any space on your entertainment center that you don't have to and mount your television on the wall. These days there are a ton of easy DIY mounts available at the hardware store or online. Just double check that you've got the right size and know how to install it properly, so your TV doesn't come crashing down.
2) Choose a smaller, lower-profile entertainment center.
Finding the right entertainment center is the key to making your small media room work. Go with something smaller scale that isn't too bulky, so it doesn't impose on the space. Look for something with plenty of storage—shelves, cabinets, etc.—to store your DVDs, games, and devices.
3) Match the style of your furniture and décor.
Furnish your small media room with furniture and décor pieces of the same style and color scheme. The better everything blends together, the less attention will be drawn to the space it takes up and the more seamless the room will look. This goes for your entertainment center, seating, tables, and any decoration.
Bonus Tip: Choose a short, thin coffee table or opt for small end tables to leave more room for seating in a smaller space.
If you're looking for some guidance in choosing the best furniture to optimize your small entertainment space, stop by Conway Furniture to speak with our professionals! We've got a variety of options for seating, entertainment centers, décor, and more to meet the size and style needs of any media room. Or, use the room planner tool on our website to help you design the perfect home theater.
Give us a call or reach out online today so we can provide you with the resources you need to make the most of your space!