How to Style an End Table
August 11th, 2017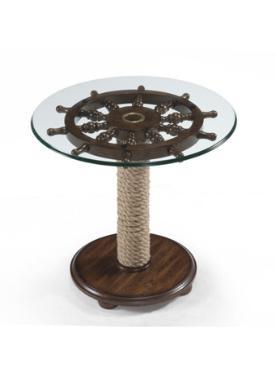 How often do you really think about the end tables in your home? If we had to guess, we'd say probably not very often. However, these tables offer valuable decorating real estate that you may be underutilizing.  Rather than viewing your end tables as a place to toss the remote and loose odds and ends throughout the day, check out these great tips on how to style them so that they accent your home's overall decor.
Rustic and Simple
For areas of limited space, stick to a simplistic end table design. Go with a smaller table with thin, spindly legs, and a simple, clean design. To play up the rustic theme, go with a dark wood, like this traditional square end table from Allwood. Add a bouquet of fresh flowers and the book you're currently reading, and your end table will radiate rustic charm.
For Small Spaces
For teeny tiny spaces, go with clear end tables, made of either glass or fiber glass. The design will be ultra-chic, and the table will still be cute and functional without blocking any natural light. The space will keep that light and airy feeling, but you won't have to sacrifice a spot to place your drink while curling up on the couch for a movie night. This unique captain's wheel martini table is a great option if you want to incorporate nautical décor with glass features.
To Make an Impact
Accent tables are there to make a statement, so don't be shy when it comes to decorating them. If you want to make a statement and choose something that doesn't quite match our home's theme, go for it. Create tablescapes using the rule of three: three items, whether similar or dissimilar, are better than two items or four items.
Click here to check out Conway Furniture's selection of end tables. We run the gamut from rustic to traditional to modern, so there's sure to be something here for every taste. If you have questions about our products, or want to check the status of an order, call us today at 1-800-365-9127.