Highlighting Curio Cabinets
July 20th, 2018
Souvenirs from ar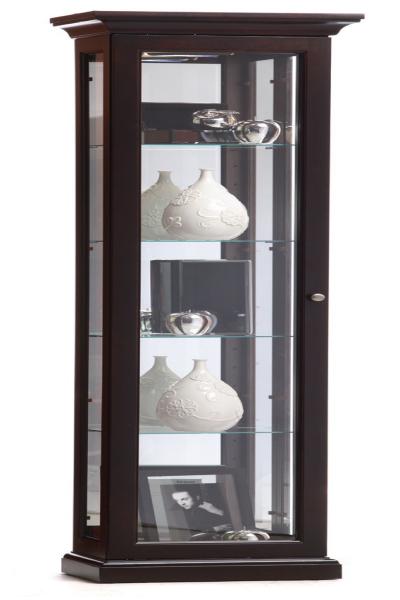 ound the globe, precious family heirlooms, collectibles passed down through generations: your most valued possessions already have a place in your heart. Now, give them a special place in your home!
Keep your treasures safe and give them their moment to shine by putting them on display in a unique, revealing curio cabinet.
Serving a dual purpose, curio cabinets let you store and protect your collectibles, souvenirs, and other beautiful items while simultaneously showing them off to guests. They also keep your objects safe from moisture, dust, pest, and fingerprints!
Curio cabinets come in a variety of colors and designs to suit your needs, style, and décor. The items inside a curio cabinet do not necessarily need to fit into the theme of your room, making the cabinets a great choice for those desiring to add something bold and new to their design scheme.
Typically featuring glass side panels, curio cabinets come with built-in added visibility to show off the many angles of your collectibles. Fill your cabinet with items you do not want handled by others, including figurines, dolls, or wood carvings. Aim for displaying items with 360 degrees of detail to take advantage of the see-through glass paneling.
Consider the addition of side and top lighting to really illuminate and spotlight your collectibles. Configure your curio cabinet to best fit your items, using the multiple glass shelves of the cabinet to showcase a variety of items of varying heights.
Curio Cabinets vs. China Cabinets
Though both curio and china cabinets allow collectors to highlight their valuables, the main difference between the cabinets is where you plan to put them in your home and what you wish to use them for. China cabinets traditionally present fine china, giving you the perfect place for displaying fine dinnerware. Unlike curio cabinets, china cabinets typically have solid, closed sides that keep guests focused on only the front side of the collection where they see the finer, more intricate details of the china. Rather than storing your treasured china in boxes or throwing it into a storage unit where it may break, the formal china cabinet presents a safer and more beautiful option.
Whether you show off your collection of gorgeous china with a china cabinet or display your collectibles and other valuables in a curio cabinet, each cabinet offers an element of beauty, sophistication, and grace to your home.
Find a selection of curio cabinets with single or double doors to suit your collection from Conway Furniture, your source for high quality furniture at great value.