Why Purchase a Sofa Table
September 13th, 2018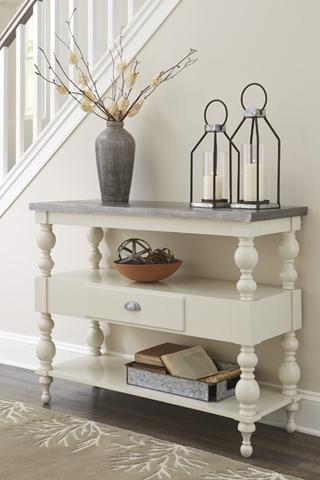 Are you looking for a piece of furniture that serves multiple purposes, fits in with your décor, and adds a little touch of style to your space? Conway Furniture has what you need: the sofa table.
The small but mighty sofa table has a lot to offer to a household that loves smart design combined with functionality.
Packing a powerful punch, the sofa table offers versatility, fulfills your furniture needs, and adds intrigue to your living space.
Sofa Tables Offer Versatility
Sofa tables come in multiple sizes, designs, and colors, and fit in many spaces. Due to its versatility, integrating a sofa table into a themed room proves easy and convenient. These small tables fit into a variety of places around the room, such as behind the sofa or between the sofa and the wall. Consider sitting a sofa table in your entryway as an inviting welcome to guests.
Be sure to choose an appropriately sized sofa table to fit the space you desire, ensuring the space is deep enough to fit items you wish to display without overcrowding the surrounding spaces.
Sofa Tables Fulfill a Need
Do you often feel that your living room is missing something? From providing additional storage to filling dead space, sofa tables often fulfill a need. Select a sofa table with multiple shelves to add some much-desired storage space to your living area. Include storage bins or baskets under your sofa table for an organized way to hide extra pillows and blankets.
Use a long sofa table desk to fill up empty or unused spaces in your home by adding some interest to the area. Sofa tables serve many purposes; the limit to their functionality is only your imagination!
Sofa Tables Add Intrigue
Because they come in numerous styles, sofa tables integrate well into rooms of varying styles and aesthetics. Sofa tables are rich with detail and design, adding flare to otherwise ornate rooms.
Display accessories, art, pictures, and more on your sofa table to enhance your overall design scheme. Showcase your favorite books or decorate with unique flower vases and stylish lamps. Sofa tables offer you a space to decorate on a lower level, filling the space between what is hanging on your walls and the furniture.
Find the best sofa table for your home at Conway Furniture. We offer high quality bedroom, living room and dining room furniture to our customers from our convenient location in Listowel, Ontario.