Tips on Decorating a Space You're Renting
January 24th, 2019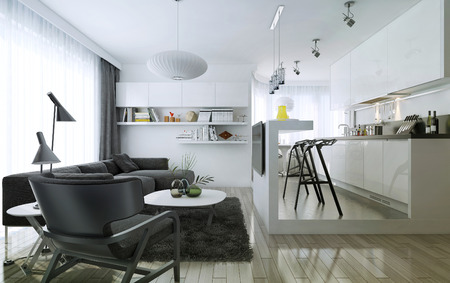 Finding the right furniture for a rental space can be tough. Many people feel that a rental space is "just temporary," but even if that is the case, it's still home.
When furnishing a rental, it is best to select your furniture with both comfort and utility in mind with an emphasis on utility.
Consider Surfaces
Since most rentals are likely on the smaller side, it is important to ensure every square inch of it is functional. You might consider purchasing an ottoman instead of a coffee table that could offer additional seating.  Slim end tables serve as a functional place to set a well-deserved drink after a long day and can add some character to your space.  End tables with drawers are always a as well because they provide more storage for things that don't necessarily have a place.
Consider Storage
Entertainment centers can play a huge role in providing more storage. Consider entertainment centers with "doors" which can help you store items such as cords, games, movies, and more. If you want to add in a touch of personal décor, consider a sofa table.  These delicate tables can fill up a corner space that would normally remain vacant.  Decorate them with artwork or trinkets to personalize the space.
Consider Quality Products
It might be tempting to stock a rental space with used furniture, but we'd encourage you to purchase new for a variety of reasons. For example, thrifted furniture can often contain critters. New products are going to offer you top quality, eliminating the need to replace it year after year; instead it should remain in mint condition for years!
Consider Lighting Options
How a space feels largely depends on the lighting within it. Unfortunately, sometimes because of a lease, switching out hardwired lighting can be difficult.  Don't let this stop you from finding lighting solutions that'll create a space you love. Lamps can add a warm glow to any space and there are all kinds of styles available at Conway Furniture!
Although decorating a rental can be difficult, it doesn't have to be! Decorating a rental is an excellent opportunity to understand your personal style and functional needs.  Start shopping at Conway Furniture today and make your rental space a place you're proud to call home.