Three Key Tips to Decorating Your Home
March 21st, 2016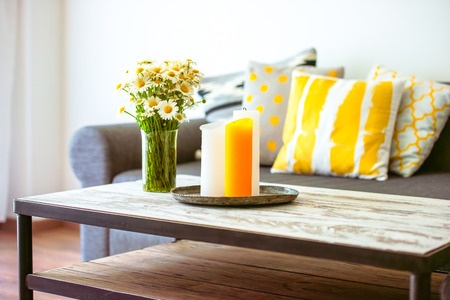 As much fun as most of us have shopping for new furniture, it can be tough to redecorate the rooms in your home to match the gorgeous pieces you have picked out.  From wall color to furniture arrangement there is plenty to consider, but you don't need an interior designer to decorate for you! Follow these tips to improve the look of any room in your home:

Change How You Arrange Furniture
One of the most important aspects to creating an attractive home isn't the items you fill it with, but the way you arrange them. A crowded space will never look as stylish and welcoming as one that provides plenty of room for you to get around, so pay close attention to how you can move in a room as you are purchasing and arranging your furniture to fill it.

Don't Overdo Your Theme
While it is helpful to have a theme or particular style in mind when choosing furniture and accessories to decorate your home with, you don't want to go overboard with your theme. Completely themed rooms feel like something out of a hotel, lacking individuality and personality.

Instead, keep your theme in mind when it comes to color, materials and shape, but add unique touches from your life to make each room your own. Whether you decide to hang your children's artwork behind the sofa or fill the shelves alongside your fireplace with collectible from your travels, there are plenty of ways to incorporate a little of you into a themed room.

Leave the Painting for Later
When it comes to redecorating, many homeowners start their project by re-painting the walls for a fresh, clean look. And while we agree that a fresh coat of paint can do wonders, we also recommend waiting to paint your walls until you have decided on what furniture, accents and artwork you will be including in a room.

There are an endless number of colors to choose from when painting your walls, and until you see your furniture in a room, it can be difficult to tell which shade is just right. It is much easier to match paint to furniture than furniture to paint, so put together your room first, paying attention to the accent colors in your throw pillows and other decorative accents to find the perfect shade for your walls.

For all your furniture and home accent needs, visit Conway Furniture online to use our room planner, then head to our Listowel, Ontario store to start shopping.

Source: http://www.houzz.com/ideabooks/19837206/list/12-key-decorating-tips-to-make-any-room-better