The Power of the Pouf in Your Home
April 28th, 2020
What new changes have you made in your homes lately? I'm sure you all have done a bit of that with all the time we have been spending in our homes right now. Fresh paint perhaps, changing around furniture, hanging up some photos, and maybe even thinking about some new pieces for your home.
Well, what about a pouf!?
What is a Pouf you're probably thinking?
A pouf is most often a structured multi-functional cushion that can be placed on the floor, most often in living rooms, nurseries and bedrooms. They are a versatile accent piece that is perfect for bringing any room together in a trendy way!
How Can A Pouf Fit Into my Existing Design?
Poufs can really pack a big punch of style and colour, and can be used in a variety of different ways. Poufs can function as a chair, footrest, an additional tabletop, or just as an eye-catching accessory in your home! It's the perfect piece to cozy up a relaxing reading space you may have, or just to have a couple at the end of your bed, but it's totally up to you to play with your own creative vision with where you decided to put it.
Colour, Size, and Texture
Colour, size, and texture are all such key elements within design. Take photos of your space, look at all angles and see how you would like to incorporate your pouf. Do you want it to stick out? Blend in? Make a statement? Here are two images show casing leather and graphic pattern poufs that look totally seamless in their spaces.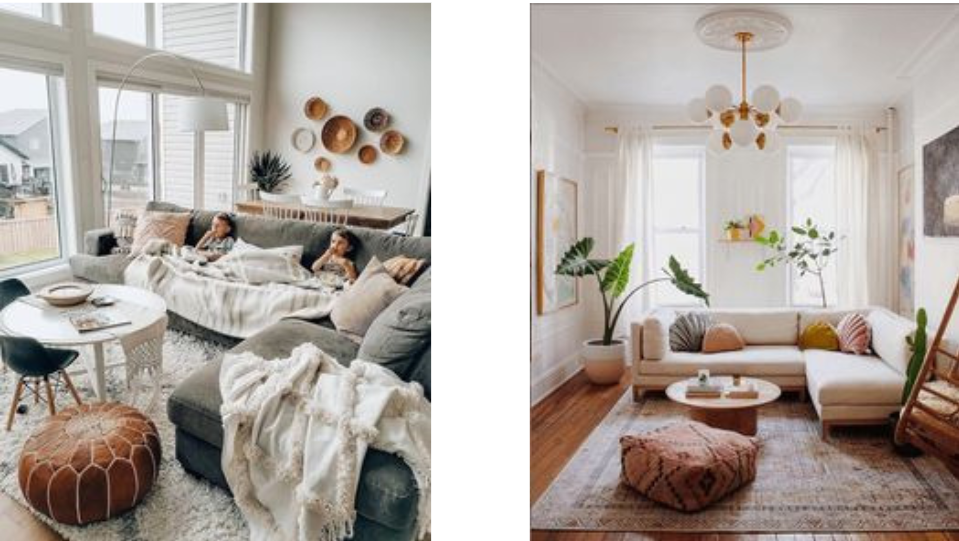 Pouf VS Ottoman, what is the difference?
Poufs and ottomans have very similar uses, but mainly differ in appearance. Ottomans are usually bigger in size, firmer, and can even come with storage, whereas poufs are softer and smaller in size and just give a completely different design element to a space.
Take a look at our previous blog on 3 alternative ways to use an Ottoman in your space! https://blog.conwayfurniture.com/3-alternative-ways-to-use-a-living-room-ottoman/
Need Help with my Creative Vision On How to Display my Pouf
No problem! Take a look on Pinterest, or follow your favourite decorators on Instagram. Keep a folder of all the images and ideas you love!
https://www.pinterest.ca/search/pins/?q=pouf%20room%20ideas&rs=typed
Poufs are designed to be an accessory that can pair beautifully with a variety of different things you probably already have in your space, so they don't take away from what you have displayed but add to it! If you're concerned about what pouf to choose, no matter what your style is, you can always find the perfect pouf for you!