Make Your Home Bigger Using Your Furniture
January 23rd, 2017
From couches to tables, chairs and dressers, each piece of furniture in your home plays a specific purpose. They provide a place to sit and relax, eat your dinner, and store your clothing. But the furniture pieces in your home do so much more than this as well.
They also influence the look of your home and its perceived size.
With function and focus in mind, there are many tricks that you can leverage to make every space in your home look and feel bigger.
Choose a Focal Point
If you've ever walked into a room and felt uncertain of what it was used for, you can understand the role that focus and structure can play in a space's appearance. Each room should have a focal point, an item or area that structures the space and connects the other pieces within it.
For example, the bed is the clear focal point of a bedroom, with the nightstands, dressers and other furnishings arranged around it. Similarly, a television or fireplace is often used as the focal point of a living room, with the chairs, couches and tables surrounding it.
Prioritize Furnishings
To help make the rooms in your home look well-sized and comfortable, it is also important to prioritize your furnishings, both by functionality and size. When arranging furniture, start your planning with the largest pieces. Once you have them arranged in a way that looks both natural and attractive, you can start filling in the space around them with other, smaller pieces.
Remember, sometimes less is more. You never want to overcrowd a space with so many pieces of furniture that it feels stuffy and cramped.
Consider Traffic Flow
Not sure if the couch is positioned correctly, or if there is enough room to fit that cozy armchair into your space? Walk around,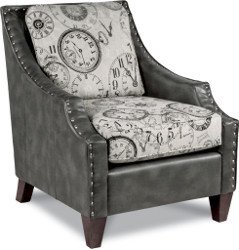 pretending to go about your day-to-day routine within the space.
If your new furniture arrangement interrupts the regular flow of traffic that will occur in your home, it isn't quite right!
In need of more furniture arranging advice to maximize the space in your home? Check out this fun infographic we found on elledecor.com. And once you are ready to start shopping for new furniture for your Listowel, Ontario home, visit us at Conway Furniture. We look forward to helping you make the most of your space!