How to Rearrange Furniture with Care
October 12th, 2017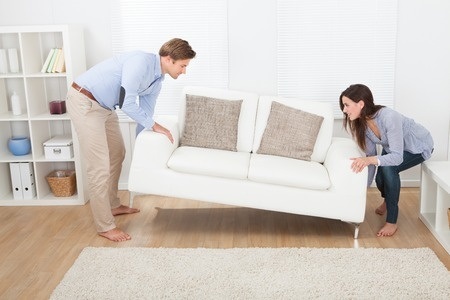 If you recently purchased new furniture pieces, you are probably looking to rearrange the furniture you currently have. Rearranging pieces will give you a chance to clean the room from top to bottom, and it will also help to showcase your new pieces.
Before you start rearranging furniture, take the time to make sure you're doing it with care in order to maintain your flooring and furniture.
Take a look at a few simple tips that will help you do it.
Don't drag your furniture, especially if you have hardwood flooring.
The first thing that some people do when moving furniture is start pulling and pushing it around the room. This is a terrible idea, because unless the legs on your furniture are padded, they are likely going to scratch up your floors and do damage. You should ask someone to help you pick up the furniture and move it, if possible. This will guarantee that your floors don't sustain any damage when you move it. If there are already felts on the bottom of legs, make sure they are free from grit and small stones. If the legs on the furniture screw in, be sure to tighten them periodically to prevent furniture wiggling, and to protect the connection.
Conway Furniture has products for furniture legs to protect your floor; from felts to make things slide to slipstick feet to make things stay. If you do scratch your flooring, Conway Furniture has a wide range of flooring options that are great for many rooms.
Move slowly when you are moving your furniture around.
Picking up your furniture when you move it will prevent damage to your flooring, but there are still lots of other ways you can damage things in a room when you have furniture in your hands. From running into walls to colliding with other furniture to accidentally breaking a window, you want to avoid damaging items in your room. The only way to do that is by moving as slowly as you can when you have furniture in your hands.
Use padded gliders for your heavier furniture.
If you have certain pieces of furniture that are just impossible to pick up, then you are going to need to push or pull them around the room. Before you do, you should obtain padded gliders that can be placed underneath of the furniture to make this process easier. The gliders will protect your flooring while making it simple to move furniture around.
Are you considering purchasing new furniture for your home? If you find that your old furniture just isn't cutting it anymore, Conway Furniture can provide you with all the furniture you need. Stop by our showroom or call us at 519-291-3820 today to place an order.