How to Protect Your Furniture from Your Kids
October 7th, 2019
So, you finally splurged for some new furniture! It's beautiful, comfortable, and works perfectly with your space. But will it work perfectly with your children?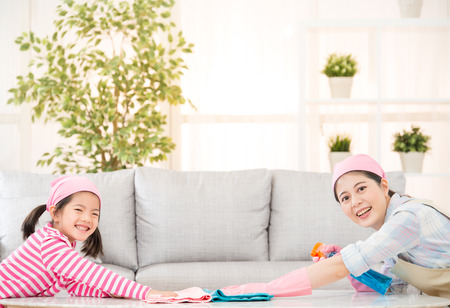 As you get older and start learning the ins and outs of homeowning, jumping on the living room furniture while pretending the floor is lava seems less and less fun. Quality furniture is a big investment. It's important to take the right measures to protect and maintain your furnishings, so you and your family can enjoy them for years to come.
Before you go shopping for your next big purchase, check out these tips to help your kids and your furniture coexist peacefully!
Prioritize quality.
You might think it would be smarter to buy cheap furniture for the house until your kids have grown out of their wild, playful stage. The truth is though, investing in quality pieces that can withstand wear and tear is going to save you more time and money in the long run!
It's not going to be difficult or take long for a rambunctious child to break a cheap coffee table or spill juice on low-quality couch fabric. Furnish your home with pieces made from solid materials and resistant fabrics that can take the abuse and maintain their quality. This way, you won't have to replace your entire living room or bedroom set every few years.
Spend some time in your children's shoes.

Get down on your kids' level and look at the room from their perspective. What's easy for them to grab? What would be tempting to climb or play with? Make these considerations before you make purchases, so you don't end up with something you have no practical place for.
Keep potentially dangerous and valuable décor out of your children's reach. That antique vase great grandma brought over from the Netherlands? It probably shouldn't go on your end table.
Take advantage of color, pattern, and texture.
As you shop for furniture, make strategic choices in terms of color, pattern, and material that will help camouflage damage. Dark colors are great for hiding spills on fabric and fingerprints on hard surfaces. Rich and busy patterns for the furniture or carpet are also an excellent distraction from stains or small tears your kids might cause.
You'll want to try to stick with materials and finishes that are durable and easy to clean. Wooden furniture is very easy to maintain, for example. Leather, vinyl, wool, and suede are also among some of the stronger, more stain-repellent fabrics.
Set some rules.
Try to instill good habits in your children to cultivate an ideal environment for your furniture. Teach them not to eat, drink, or craft on certain pieces. Get into the practice of setting your kids up in certain areas to play.
Designating specific spaces for your children to make their own is a smart way to give them some freedom and your furniture a break! Create a playroom in the basement or move the coffee table to the side and let them use the carpet when playtime rolls around.
Be prepared for a mess.
Keep fabric cleaner on hand to swiftly handle stains and spills before they set. Having some extra wood filler, polish, and paint around for quick touch-ups for scratches and chips isn't a bad idea either.
You'll also want to take some steps to protect your furniture as soon as you bring it home, before your kids can leave their mark! Use a fabric protecting spray to repel stains and strengthen the fabric. Or better yet, find a company that offers extra protection when you buy your furniture—like Conway! Our 7-year fabric and leather protection treats your new pieces with a dust repellent that keeps dirt from settling into and weakening fabric fibers.
Conway Furniture understands that you need furniture that can serve your family well and maintain its quality over time! That's why our exclusive warranty protects your furniture and covers accidental spills and tears for 7 years—on our dime.
Allow our experts to help you look through our affordable, high-quality selection of furniture for every room in the house. We guarantee you'll find something both you and your kids will fall in love with!