Dining Room Interior Design Tips Your Guests Will Eat Right Up
November 19th, 2019
The holidays are coming up and with them, for those who play host every year, a horde of extended family and friends ready to celebrate with new stories, joyful laughter, and a big, hearty meal! That means it's time to pull out the casserole dish, wash the fine china, and dust off the hardly used dining room table.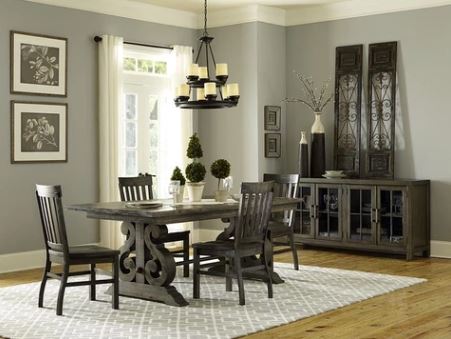 The impending influx of dinner guests probably has you thinking about what you can do to spruce up your dining space. Start by going through your dining room and refreshing it with these essential interior design tricks to guarantee everyone who passes through feels like they really are home for the holidays!
Start with the right furniture.
If your dining room feels stuffy, disorganized, or obsolete, it's best to start at square one—the furniture. Update your table and chairs so that they fit your space and your needs. Your dining set is the focal point of the room. Everything else—supplementary furniture, décor, accessories, etc.—is just another spoke that points back to the center of the wheel.
Aim for function first, then style.
This guideline holds true when it comes to choosing your furniture and establishing the layout of the room. Measure your space before you decide what's going in it so that once it's filled, there's still enough space for traffic to flow comfortably.
For small spaces, round tables usually work better. If your dining room is large, opt for something long and rectangular or oval in shape. You can always get something with a removable leaf in case you end up in a situation where there are a few extra guests to squeeze in!
Get the lighting right.
When was the last time you thought about the light in your dining room? Well if you haven't, now is the time to start. Infuse a mixture of light sources into your dining room if you don't already have a few. Lighting sets the tone for the entire room, so you need to be prepared to accommodate several different moods and situations.
Start by emphasizing any natural light you have—this is always the warmest and most welcoming. Then, use a combination of floor lamps, table lamps, light fixtures, and dimming features to fill in the gaps. Pay attention to the size and shape of your fixtures, ensuring they complement the table and overall style of the room.
Play around with décor and accessories.
Decorating your dining room is your chance to make it your own! The extra little adornments and furnishings you use are the finishing touches that bring your space together and make it feel like a home. Here are a few tips for accessorizing your dining room:
Anchor your dining set with a colorful or patterned area rug that harmonizes your palette.
Mix and match table linens and switch them out with seasonal colors and designs to keep things fresh.
Use neutrals colors for your furniture and the walls as a base, with one or two bold accessories to add a pop of color.
Wall décor is your chance to add personality to the room. Choose something that speaks to you.
Don't forget about the table! Do it up with an elegant centerpiece—a vase of flowers, tapered candles, or something creative like a glass bowl or vibrant, metallic dish.
Get everything you need to prep your dining room for the holidays with Conway Furniture's wide selection of dining room furniture! Elevate your space with one of our high quality dining packages, or simply tie together what you already have with something from our beautiful collection of home accents. Stop by the showroom or give us a call today to find the perfect piece for your dining room!