Start the New Year with a Clutter-Free Home
January 19th, 2016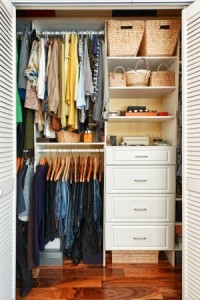 One of the things we love most about a new year is the great opportunity it provides to recreate your home environment. As you take down your Christmas tree and holiday decorations this month, we recommend taking some extra steps to ensure your home stays clutter-free throughout 2016. Not only will this make regular cleaning easier, but it will give you more time to relax and enjoy yourself instead of worrying about the mess on your coffee table or the stack of bills on the kitchen counter.

Donate Items You No Longer Use
Whether your kitchen cupboards are full or your hall closet is overflowing, chances are that there are items inside that you can give away. The easiest way to reduce the amount of clutter floating around your home is by donating the things you no longer use to make space for the ones you often do. Whether you unwrapped a new set of pots and pans or a fresh set of towels this Christmas, now is the perfect time to go through your home and get rid of all the extra stuff. Not only will this help you to re-organize closest and cupboards but it will also help local families in need.

Tidy Up Your Entryway
After a long day at work the first thing most of us do when we get home is shed our coats, bags and shoes. Instead of letting these items clutter your dining room table or kitchen counter, create an organized and welcoming entryway with a place for everything. We recommend a row of hooks for your family's coats, mats to place wet winter boots on and a hall table to place your purse and keys on. This way, instead of cluttering up your home, all of your outdoor gear will be organized near the door, ready for the next time you head out of your home.

Make New Habits
Another important part of cleaning your home is forming new habits. Instead of just organizing your home during the first few weeks of January, it is important to keep up with your de-cluttering techniques, putting kitchen gadgets back in the cupboards after you use them, sorting through your mail each week and putting it away in your desk and putting toys, games and remotes back in their proper spots instead of leaving them on the coffee table.

One great way to organize your home is with multipurpose furniture. Conway Furniture has lots of great options to choose from, including storage ottomans, desks, and coffee tables with lower shelves – perfect for magazines and DVDs – to help you create a cozy and clean abode in the year 2016. Visit us online to start shopping, then head to 5663 Line 86 in Listowel, Ontario to find the right furniture to suit your needs and style.