Holiday Décor for Every Style
December 4th, 2015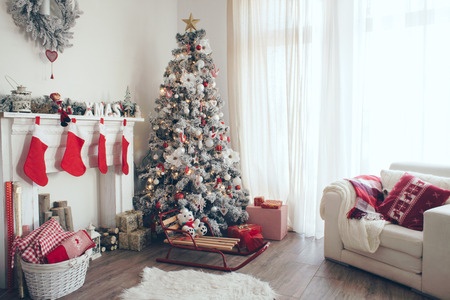 Here at Conway Furniture, one of our favorite parts of the holiday season is decorating. Whether your home is filled with traditional furniture or modern pieces, there is a decorating style that will blend seamlessly with your current taste. From wintery white to glittering gold, add some Christmas spirit to your home with our advice.

Old Fashioned Christmas
The perfect choice for a rustic home, an old fashion Christmas theme allows you to decorate with all of your childhood favorites. Create a Christmas village on your mantel and adorn your tree with vintage glass ornaments, strands of popcorn and beaded garland for a classic flair. The best part of decorating for an old fashioned Christmas is getting your whole family involved, stringing popcorn and beads as you drape tinsel on each branch.

Glittering Gold
Bright and bold, gold decorations create a warm and glamorous feeling. Gold toned ornaments and glittering garland make a beautiful accent to the green of your tree. Candles, stars and bows are a few tasteful ways to add this shimmering shade around the house. To keep this bright shade from overpowering, we recommend using it sparingly, paired with white or green decorations.

Classic Red & Green
Compliment a traditional home's style with decorations of red and green. Place evergreen wreaths on your windows with holly red bows, hang stockings from the mantel and add an arrangement of poinsettias to the dinner table to show your holiday cheer. You can even add pops of color to your furniture with an afghan draped across the back of the couch. The best part about red and green décor: It looks natural with almost any color scheme, creating a homey feeling throughout the winter months.

White Winter Wonderland
If you love the look of fresh, powdery snow, then a winter wonderland theme is a beautiful and crisp way to decorate your home this season! Perfect for modern homes with clean lines, white decorations create an elegant feeling throughout the home. Hang handmade snowflakes in the window, winter white stockings above the fireplace and icicle shaped ornaments from the tree for a modern and unique Christmas display.

Whether you are searching for a cozy living room chair or are interested in replacing the dining room table your family has grown out of, Conway Furniture has the furniture to suit your needs. Start shopping with our online catalog, and then visit us at 5663 Line 86 in Listowel, Ontario to find furniture that fits perfectly into your home.