Creating a Rustic Look for Your Cottage
July 10th, 2013
Half the fun and excitement of purchasing your new cottage is decorating it. From a traditional wood camp style, to a more modern natural design, there are myriad of possibilities to be creative and have fun.
Fortunately, there are many diverse and stylish ways to bring that comfort and rustic feeling into your new camp or cottage. Wood is always key when it comes to implementing a warm, outdoorsy design aesthetic into your home, and mirrors, wall art, and gorgeous furniture are a great way to begin. Check out some creative ways to incorporate wood into your cottage interior design!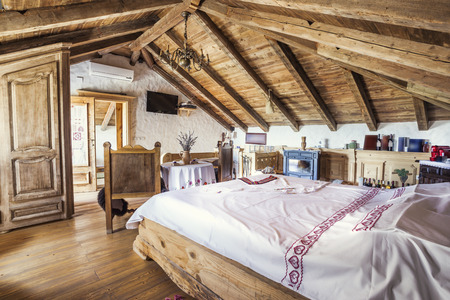 Mirrors
Wood framed mirrors are functional, and can add a very specific style image to any room. If going for a more modern design, a beautiful beveled glass mirror framed in mahogany will elevate the decor, while adding true warmth to the room. Square mirrors tend to evoke a more modern feel, while round or oval mirrors will give the space a more traditional flare.
Smaller wood framed mirrors are great for bathrooms and larger, more majestic mirrors accent the walls of living rooms, dining rooms and hallways. There are a few popular and fun mirror designs that are framed with gorgeous twigs of wood, which create an even more authentic rustic look.
Wall Art
Some old school design ideas, which still look perfectly beautiful today, include the hanging of antler designs on the walls for decoration. Wall lamps, candle sconces, and abstract art can also include the use of real and faux antlers for those who want the look and feel of the wild outdoors brought inside.
Traditional western style artwork is another way to incorporate that outdoorsy style into your cottage. Many forms of early American artwork are available online, but there are also modern artists replicating traditional western and American landscape art, perfect for setting the style tone in your abode.
Wood Furniture
Dining tables, coffee tables, over-sized ottomans, and bedroom furniture, all look amazing made from wood or accented with wood trimmings. Homeowners can go all out and dress an entire bedroom in wood decor or accessorize with a few elements, such as, side tables, footstools, and bookshelves.
Chandeliers are a fresh and innovative way to add more natural wood elements to your warm cottage style. Designers are creating chandeliers in many different styles that fuse modern design with natural wood. Black Forest Decor makes a magical wooden antler design chandelier and one with a more modern look, made from wrought iron. Both would creatively define the style of any camp. Wood, natural fabrics, wrought iron, and American landscape art, are just a few of the ways to bring that special rustic feel to your cottage design.
If you decide to go modern, traditional, or mix and match the best of both worlds, there is plenty of decor and furniture to choose from at Conway Furniture! Use your own imagination and creativity to add the warmth and comfort you desire into your rustic style cottage. Browse our selection online or stop in our showroom to get started!