Choosing the Right Flooring for Your Vacation Home
June 11th, 2019
As summer approaches, many of us probably find our minds wandering to thoughts of relaxing vacations and fun summer getaways. If you own or rent a luxurious beach or lake house, you're probably even more excited to get over there and open it up for the season!
Summer homes are not the only possibility, of course, when it comes to the types of vacation houses people have to choose from as an escape. There are mountain lodges, a simple cabin in the woods, a rustic country cottage, tropical condos, tiny metropolitan villas—and so much more these days! Choosing the perfect features—paint color, furniture, flooring, etc.—is essential to bringing everything together in an ideal spot for rest and relaxation.
Check out our quick breakdown of some of your best options for flooring in your vacation home. When you're done, head over to our website to take advantage of the flooring options and installation services we have to offer!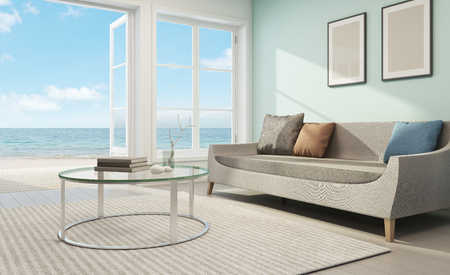 Carpet
Carpet is an easy and reliable option for any vacation home. There are a few specific environments, however, where carpeting might serve you better than others.
This type of flooring is warm and soft, great for a winter cabin or the bedroom floor of a beach house. It offers families a safe, comfortable place for children to play—something to consider if you generally vacation as a family.
Carpeting is also relatively inexpensive and easy to install. It's a smart choice for renters or homes that are only occupied for a few weeks out of the year, such as country cottages or part-time city apartments.
Luxury Vinyl
One of the newer and more popular types of flooring popping up in modern households is luxury vinyl. It consists of quality vinyl strips that are made to realistically mimic the appearance of wood, stone, or ceramic. With luxury vinyl you can secure an elegant aesthetic for a cheaper price.
Vinyl is soft underfoot, making it an excellent option for homes exclusively intended for lounging around and hanging out comfortably. It would work very well in vacation spots near the water—like a beach or lake house—as one of it's defining qualities is high water resistance.
Vinyl is also very durable and will stand up well to the heavy amount of foot traffic that your vacation home might see at parties, gatherings, or on big family trips.
Wood
It's difficult to go wrong with a classic hardwood floor. Spruce up a condo you're renting out or enhance the natural ambience of a cabin in the woods with this homey flooring option. It's an easy way to increase your property appeal as well—something to consider for when it's time to upgrade to a bigger getaway spot.
Keep in mind that wood is not ideal for handling moisture. It also expands and contracts in response to changing humidity and temperature, which can stain, warp, or damage the wood over time. You probably want to opt for something else if it's a beach house or tropical condo you're designing.
Another distinct advantage of hardwood flooring is that there are many different types of wood to use, resulting in one-of-a-kind options that accent your home. The neutral coloring and appearance also allow wooden floors to match rooms and homes of any style!
Conway Furniture has been working with customers for decades to fill their homes—vacation and otherwise—with quality flooring! We have a wide selection of designs and materials available for you to choose from, and we offer expert installation services as well. Contact us today to get a free in-home estimate!