5 Reasons to Use a Virtual Room Planner
September 7th, 2021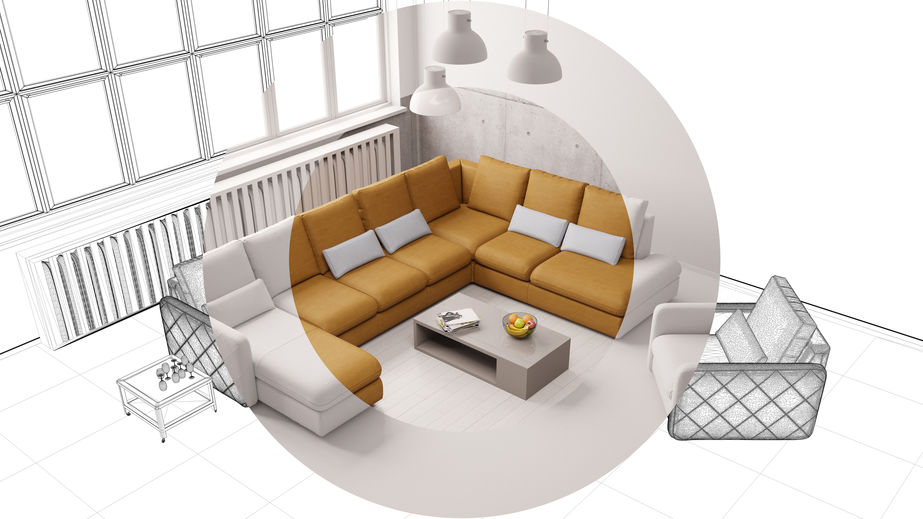 Designing a new room or redecorating an existing one in your home is no easy task. It can be hard to get a true sense of how all of your ideas will actually look in your space, compared to how they look in your head. Or, you may have the opposite problem and draw a blank when trying to come up with a design. A convenient solution for getting around these challenges is to use a virtual room planner, such as Conway Furniture's interactive 3D Room Planner.
Homeowners can benefit greatly from using one of these online room planning tools to maximize space and optimize design. How so?
1) Avoid costly mistakes.
Imagine taking your time to carefully choose a new sectional couch, spending thousands of dollars on it, and then bringing it home just to find the color doesn't match your other furniture or it looks too big for your living room. Investing in furniture and other design elements (such as paint color or décor) that don't end up working in your space is a waste of time and money.
With a room planner, you can try it before you buy it. You'll be able to nail down furniture size, style, and placement, colors, and décor before you spend a dime. Many room planners even allow you to test out new pieces with your existing furniture to ensure everything works well together.
2) Keep details straight.
If you're redecorating an entire room or house, there are a lot of major and minor details for you to remember. Planning out everything in your head can get messy when it comes time to implement your design. You might, for example, forget which corner your new loveseat was supposed to go in or which room you bought that new piece of wall art for.
A blueprint created with a virtual room planner will help you remember exactly what you need and where it goes as you're redesigning your space. Use it as a guide to follow as you're shopping, setting up, and finalizing the details of the room.
3) Experiment with different styles.
Are you interested in trying something different with your design scheme? Or maybe mixing and matching two styles you like? A room planner is an easy way to test out your ideas virtually to see what works together and what doesn't. In essence, it's a tool to help you visualize your ideas in action.
Stuck between two dining room tables? Plug them into the planner and see what better fits your vision. Not sure if a farmhouse coffee table will complement or clash with your mid-century modern couch? Use the planner to test out the combination. It's easy to swap out different pieces and design elements in a room planner to decide what you like and what looks good.
4) Save time and energy by nailing down your layout.
Before virtual tools were available, playing around with the layout of a room meant either drawing blueprints to scale or spending a lot of time and energy moving around heavy furniture. With an online room planner, you can move an entire room around with a few clicks of a button. Spend some time experimenting with different arrangements and see what you like and would be most functional for you. Use this as a blueprint to guide you as you set up.
Being able to change around a room's layout with ease in a virtual planner can also inspire new ideas. While looking at all of your pieces and your space in the 2D and 3D display features, you can see layout possibilities you might not see otherwise.
5) Create a checklist to streamline furniture shopping.
Even if you have everything planned and picked out for your room before you head to the furniture store or website, it's easy to get overwhelmed and forget everything you need when you actually start shopping. As you're walking around or clicking through inventory, you may lose focus or become distracted by pieces you like but hadn't planned on buying.
Using a room planner helps you narrow down what furniture you want to buy and makes shopping faster and easier. Many room planners, including the one we use at Conway, even integrate your virtual blueprint with your online shopping cart, making purchasing your products quick and easy.
At Conway Furniture, we want to make it as easy as possible for you to bring the space you have in mind to life. With our interactive floor planner, you can maximize your usable space, achieve a specific style, minimize visible clutter, and bring together a pleasant living space. Spend some time mixing and matching our different furniture collections to see which pieces best fit your needs and vision.
Start designing your new room and ordering the furniture you need to fill it out on our website today!