3 Spring Home Makeover Ideas You Should Try
March 1st, 2018
It's getting to be that time of year again where we realize we haven't moved a single thing in our homes, including ourselves, since Christmas. That's right! Spring is almost here and with that, the infamous spring cleaning to breathe life back into our homes. While you're sitting there thinking about dusting, you may find that your home needs more than just a quick surface cleaning; it may actually be time for a whole new look.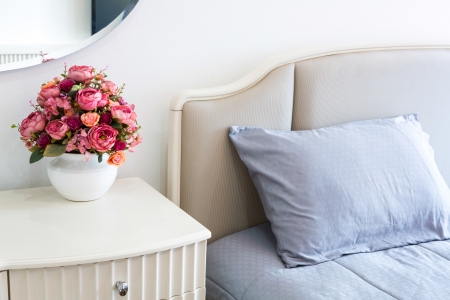 It's time to rethink and revamp and we're here to help with some simple spring home makeover ideas that will freshen up your space.
Brighten Up Your Entryway
The entryway is the sometimes forgotten space that makes the first impression.   It can be practical , fun, interesting but will always reflect your personality. Add a mirror, a clock, a bench or a small hall  table such as Abbonto console sofa table and Abbonto bench from Ashley. You can change your accents in the space to reflect spring and the breath of fresh air you've been desiring.
Create Some Space
Spring may mean time to organize our favorite things, as well as the spring clean. This doesn't mean you have to say farewell to the ten books on the end table and your six all-time favorite candles on your mantel. It means that it's time to declutter and find some unique  display  places for those items. Consider doing a gallery arrangement of your treasures in a new cabinet or shelf.   Maybe add a coffee table that will both open the room up as well as provide a hiding place for things you're not using at the moment.  Check out one of our favorites, "The Cottage Lane" coffee table from Magnussen furniture.
Rethink Your Colour Palette
Freshen up your bedroom or living room by bringing spring into the home with a new colour palette. Lighter colors will brighten up your space and leave you with some creative opportunity to add accent pieces in the form of art,  decor,  pillows or  rugs.  Also, it's not a bad idea to incorporate some plants into your spring makeover – a little greenery adds life to any room.
No matter what style you choose this spring, Conway Furniture is here to help you make your idea into a reality. From that vibrant accent chair to the perfect vase from Mercana to hold your spring flowers, we have everything you need for a fresh new look. Call us today at 519-291-3820 to start your makeover!