Caring for wood furniture
March 24th, 2015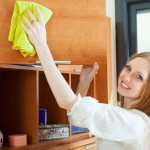 There are traditions in the churches and old wood clad homes of caring for wood furniture and banisters. Back when finishes were primitive. Back when furniture had to be cleaned bi-annually to remove the soot from coal or wood heating and from oil lanterns. After a harsh soap cleaning an oil or wax based polish was used to restore moisture to the finish. That was then (although it may still apply to antique pieces with an oiled finish).
Know what kind of furniture you have
Firstly, is it wood? Many veneer and laminate products are good imitations and don't need the same care as wood. Some types of wood, like teak, do not require a sealing finish and can be stained and left open. These products benefit from an oil treatment. Most other products produced in the last 50 years don't require oil or wax at all.
Silicon
In fact many of the available wood care products contain things that can harm the finish or at very least not help it. Anything that contains silicon should be avoided as it can react with a catalyzed finish (Conversion Varnish) and cause bubbles to appear in the surface. The sprays have chemicals that not only don't help your furniture but quite harm the atmosphere. In the end they don't do much better than a damp cloth. Continued use of waxes and other treatments can cause build up that actually yellows and clouds the wood beneath.
Today's technology
A quality piece of furniture today (the type that you might want to polish) should have a "conversion varnish" finish that is as tough as it can be. These modern finishes benefit from another piece of modern technology…Swiffer. Or stick with old technology and a soft, slightly dampened cloth. The best thing you can do to your furniture is to keep it clear of dust (it is abrasive). Keep sharp, rough or hot object from coming in contact with the surface of the furniture. Keep your homes humidity between 40% and 50% and keep the furniture away from direct heat sources.
Watch these things and enjoy. Don't get too worked up about the first scratch. Check out the antiques that are beautiful with the patina of use. They had to start somewhere.